Times Five - Summer
A quintet of delicious Tipsy Wight® summer vodka liqueurs
We have chosen five of our favourite summer vodkas and beautifully packaged them to provide a delightful introduction to the Tipsy Wight® vodka liqueur range. Rhubarb and Vanilla, Elderflower, Blackcurrant, Lavender and Honey & Lemon, all made entirely by hand from ingredients we have grown or foraged for here on our farm.
Enjoy the Rhubarb & Vanilla on crushed ice with orange juice and a ginger syrup. Try a mojito with a twist using our Elderflower liqueur, white rum and tons of muddled mint & lime! Honey & Lemon is sublime with champagne and Lavender is divine served on ice with a light tonic. Finally, our Blackcurrant liqueur, bible black and bursting with flavour, combines beautifully with Triplesec, cranberry juice and freshly squeezed lime to make a wonderfully seductive cocktail.
Presentation box includes five 4cl bottles, 24% Vol.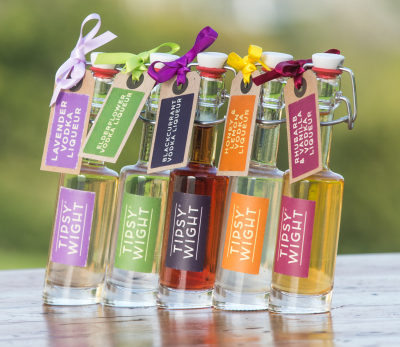 We produce our flavours seasonally in small batches meaning that very occasionally a flavour may be out of stock. Should this occur we will substitute with the closest flavour to the unavailable one and promise that it will be as equally delicious!