Times Five - Taste of the Hedgerow
A quintet of delicious autumn Tipsy Wight® vodka liqueurs.
Some of of our favourite autumn vodkas, made from the fruits and berries that we harvest each autumn, and a perfect introduction to the Tipsy Wight® range. Hedgerow, Wild Plum, Spiced Pear, Crabapple and Sloe celebrate the hedgerow and provide a taste of the quintessential English countryside long into the dark winter months.
Enjoy Spiced Pear with apple juice and champagne, or Wild Plum with prosecco and a ginger syrup. Our Hedgerow vodka is a blend of blackberries, haws, elderberries and rosehips and is delicious with soda or lemonade on ice with a garnish of fresh blackberries. Crabapple, an ancient symbol of love is heavenly with crushed ice, lime juice, gomme and passion fruit. Finally, our favourite and perhaps the most quintessential taste of the countryside, is Sloe which can be appreciated with a splash of tonic over ice or combined with mulled apple juice for a wonderful warm winter drink!
Presentation box includes five 4cl bottles, 24% Vol.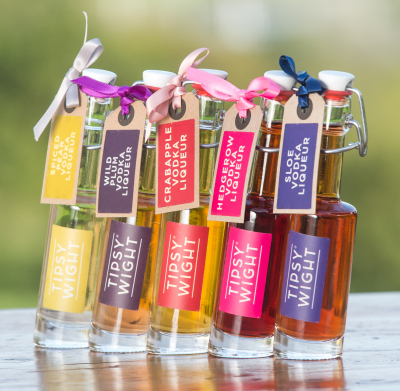 We produce our flavours seasonally in small batches meaning that very occasionally a flavour may be out of stock. Should this occur we will substitute with the closest flavour to the unavailable one and promise that it will be as equally delicious!