Times Five - Green
A quintet of delicious Tipsy Wight® vodkas inspired by our verdant English summers
A quintet of delicious Tipsy Wight® vodkas inspired by our verdant English summers here on the Isle of Wight. Quince, Elderflower, Spiced Pear, Wild Mint and Cucumber and Beech Leaf, all made entirely by hand from natural ingredients grown or foraged for here on the Tipsy farm.
Try a mojito with a twist using our Elderflower liqueur, white rum and tons of muddled mint & lime! Or combine with Prosecco for our famous Elderbubbles! Spiced pear is divine with apple juice and Champagne! Wild Mint & Cucumber is so refreshing with soda or tonic, extra mint and sliced cucumber! Beech Leaf which is made using young tender Beech leaves that unfurl in the spring over the bluebells. Rather like a brandy, smooth and warming, perfect for sipping as it is or on the rocks with a splash of ginger beer! Finally, our award winning Quince, subtle yet complex with a fruity aroma. Try on ice to compliment a cheese board or combined with crushed ice, gomme, lemon & thyme for the most refreshing cocktail ever!
Presentation box includes five 4cl bottles, 24% Vol.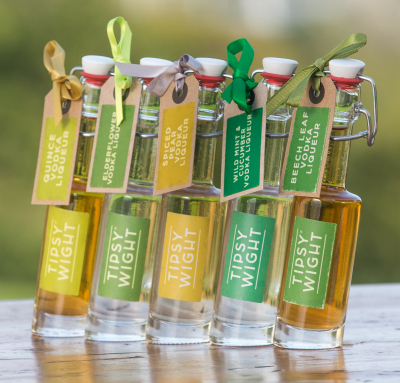 We produce our flavours seasonally in small batches meaning that very occasionally a flavour may be out of stock. Should this occur we will substitute with the closest flavour to the unavailable one and promise that it will be as equally delicious!